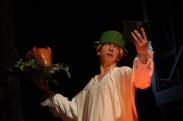 Original Title of Spectacle
Гамлет
Author
William Shakespeare
Director
Valery Fokin
Premiere
16 / 04 / 2010
Dates
October 26 / 19.00
October 27 / 19.00
Boguslawski Hall
Running time: 1 h 50 min
without intermission
Russia / Saint Petersburg
The latest production by the Russian national theatre is presented in the festival as a part of the continuous artistic exchange between the National Theatre in Warsaw and Alexandrinsky Theatre. Valery Fokin focuses on the political game, which unfolds between the Danish and Norwegian courts and denudes of meaning the personal drama of the young prince. The production marked by its monumental staging involves several dozen extras. It develops on the steps of a metal scaffolding, as if behind the national tribune or in the corridors of a prison.
crew
director
Valery Fokin
adaptation
Vadim Levanov
stage design
Alexandr Borovsky
music
Alexandr Bakshi
costume design
Oxana Yarmolnik
lighting design
Damir Ismagilov
music director
Ivan Blagodor
stage movement and fencing
Igor Kachayev
assistant director
Oleg Yeromin
stage manager
Ludmila Filippova
cast
Claudius
Andrei Shimko
Hamlet
Dmitry Lysenkov
Gertrude
Marina Ignatova
Polonius
Victor Smirnov
Ophelia
Yanina Lakoba
Laertes
Pavel Yurinov
Rosencrantz
Tikhon Zhiznevsky
Guildenstern
Vladimir Kolganov
Horatio
Andrei Matyukov
actors
Svetlana Sheichenko
Vladimir Lisetsky
Maria Zimina
Stepan Balakshin
Sergey Yelikov
first gravedigger
Igor Volkov
second gravedigger
Rudolf Kuld
Fortinbras
Maxim Solonar
courtiers, damsels,
officers, soldiers, messengers
Alexandra Bolshakova
Marina Gavrilova
Yelena Gladkova
Olga Kalmykova
Tatiana Knyasyeva
Tamara Kolesnikova
Irina Lepyeshenkova
Ludmila Lubimova
Marina Roslova
Yelena Vozakina
Alexandr Anisimov
Oleg Yeromin
Yevgeny Kapitonov
Yosif Koshelevich
Andrei Matyukov
Alexandr Polamishev
Vladislav Ryndin
Victor Semenovsky
Victor Shuralev
musicians
Inna Andreyeva
Kiryl Goncharov
Dmitry Zotin
Alexandr Kan
Konstntin Kolesnikov
Igor Mamay
Givi Sarkisyan
Svyatoslav Chereshnichenko
Alexandr Shcherbakov
Ilya Yurshevich
The performance will be played in Russian with Polish surtitles.