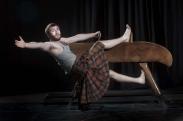 Original Title of Spectacle
Knives in Hens
Author
David Harrower
Director
Lies Pauwels
Premiere
04 / 06 / 2011
Dates
November 23 / 19.00
November 24 / 19.00
Boguslawski Hall
Running time: 1 h 40 min
without intermission
The performance marks the first visit of the National Theatre of Scotland in Poland. The Theatre, established in 2006, has no permanent venue and is dedicated to the notion of challenging of what public theatre of the 21st century can be. Knives in Hens by David Harrower, at the first glance a conventional history of love and marriage triangle, quickly turns out to be the reflection on the becoming of words and becoming through words. The performance directed by Lies Pauwels is an intriguing confrontation of the British and Flemish theatre aesthetics.
crew
director
Lies Pauwels
dramaturgy
Bart Capelle
stage design
Chloe Lamford
sound design
Mark Melville
lighting design
Lizzie Powell
cast
Woman
Susan Vidler
Pony William
Duncan Anderson
Gilbert Horn
Owen Whitelaw
Woman
Vicki Manderson
The performance will be played in English with Polish surtitles.
This text is replaced by the Flash movie.