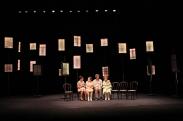 Original Title of Spectacle
מוריס שימל
Author
Hanoch Levin
Director
Yael Ronen
Premiere
28 / 10 / 2010
Dates
November 17 / 19.00
November 18 / 19.00
Boguslawski Hall
Running time: 1 h 20 min
without intermission
Hanoch Levin, one of the most acclaimed contemporary playwrights, completed his tragicomedy shortly before his death. In a fashion typical for him, the play combines flagrant grotesque and lyricism recalling some of the playwright's favourite themes: the evanescence of things, one's rooting in the circle of family and friends, the interplay between the reality and fantasy. Yael Ronen, a leading Israeli director of young generation, has already been known to the Polish audience due to her Bat Yam - Tykocin, a theatre piece created in the framework of an international Polish-Israeli project.
crew
director
Yael Ronen
stage design
Lily Ben Nachshon
costume design
Yelena Kelrich
music
Ran Bagno
lighting design
Keren Granek
obsada
Morris Shimmel
Avi Kushnir
Tollebraine
Lia Kenig
Gompertz / Pompa
Yossi Segal
Gordon Blue
Ami Smolarchik
Amos Poop
Uri Hochman
Alexander Doch
Tomer Sharon
Shibolet Nerd
Anna Dubrovitsky
Choledonka
Micky Peleg
Telegreptsia / Barbuba
Dvora Keydar
Doctor / Old Sick Patient / Heine-Mereine Bitterfeld
Roberto Polak
musicians
violin and mandoline
Adam Mader
percussion and accordion
Avinoam Albucher
The performance will be played in Hebrew with Polish surtitles.
STN Office would like to thank Mrs. Agnieszka Olek for her essential support with the translation.