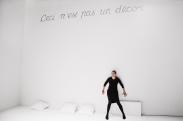 Orginal Title of Play
Les Bonnes
Original Title of Spectacle
Stuepigerne
Author
Jean Genet
Director
Staffan Valdemar Holm
Premiere
01 / 06 / 2011
Dates
October 22 / 19.00
October 23 / 19.00
Boguslawski Hall
Running time: 1 h 35 min
without intermission
A theatre masterpiece by Jean Genet, one of the greatest playwrights of the 20th century, is rarely put on stage. In the refined production by Staffen Valdemar Holm, a successor of Ingmar Bergman, three women, the maids and the aristocrat, engage in their daily rituals, in which the lines between a servant and a lady, oppressor and victim become increasingly blurred. The Royal Danish Theatre, one of the most vibrant national theatres, will perform in Poland for the first time.
crew
director
Staffan Valdemar Holm
stage and costume design
Bente Lykke Møller
lighting design
Torben Lendorph
choreography
Bill Holmberg
cast
Solange
Birthe Neumann
Claire
Kirsten Olesen
Madame
Malene Schwartz
Solange II
Simone Bundgaard Lauritzen
Claire II
Nanna Friis
Madame II
Charlotte Schibler Reim
The performance will be played in Danish with Polish surtitles.
STN Office would like to thank Mrs. Bogusława Sochańska for her essential support with the translation.
This text is replaced by the Flash movie.