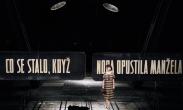 Orginal Title of Play
Was geschah, nachdem Nora ihren Mann verlassen hatte
Original Title of Spectacle
Co se stalo, když Nora opustila manžela
Author
Elfriede Jelinek
Director
Michal Dočekal
Premiere
15 / 05 / 2010
Dates
November 27 / 19.00
November 28 / 19.00
Boguslawski Hall
Running time: 2 h 55 min
Intervals: 1
The play by Elfriede Jelinek is a subversive epilogue to the classic play by Henrik Ibsen, and the Nobel Prize-winning Jelinek's debut in theatre in the late 70s. Having abandoned her house, husband, and children, Nora Helmer sets out to discover in the world designed by men her new social and sexual roles in order to construct her female identity. Directed with great panache and humour, the performance by Michal Docekal recalls the best traditions of the Czech avant-garde.
crew
director
Michal Dočekal
stage design
Martin Chocholoušek
costume design
Kateřina Štefková
dramaturgy
Daria Ulrichová
music
Miloš Orson Štědroň
choreography
Petra Hauerová
cast
Nora Helmer
Kateřina Winterová
Thorwald Helmer
Igor Bareš
Weygang, Consul
Vladislav Beneš
Mrs. Linde
Jaromíra Mílová
Man
Miloslav Mejzlík
Krogstad
Ondřej Pavelka
Foreman
Petr Motloch
Annemarie
Zdena Hadrbolcová
Eve
Eva Vrbková
Workwoman
Kateřina Petrová
Minister
Alexej Pyško
Personal Chief / Secretary
Luboš Veselý
Secretary / Workwoman
Hana Igonda Ševčíková
The performance will be played in Czech with Polish surtitles.
STN Office would like to thank Mrs. Pavla Foglova and The Warsaw Czech Center for their essential support with the translation.

STN Office would like to thank Iveco for transporting the Národní Divadlo crew and the performance sets.

This text is replaced by the Flash movie.