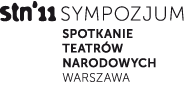 The National Theatre of Poland organised a symposium devoted to the issues of position, shape and function of a national stage nowadays. It took place in Warsaw, on 14–15 October, 2011, within the National Theatres' Meeting festival. To this event we invited representatives of all the national theatres of drama in Europe.

The overarching theme was the present condition and possible future tasks of a "national theatre", as the history of such institution goes back to the 17th Century and new institutions are being established continuously.

As far as we are aware of, the NTM symposium is the first comprehensive, all European meeting of national theatres, while regional meetings occur frequently. We are looking forward to the outcome of such an encounter and strongly believe that it will come as a fruitful and instructive event.

Apart from the keynote speakers, there was an informal discussion among the participants. It was a chance to meet, to exchange experiences and to get to know each other, rather than an academic debate on selected topics. Invited guests will also had the possibility to become familiar with the current repertoir of the National Theatre of Poland.

The official languages of the symposium were French and English and simultaneous translation was provided.

---
13th October (Thursady)

7 PM –Georg Büchner, Lenz, dir. Barbara Wysocka (Studio Stage)
14th October (Friday)

9.00–12.00 AM – opening words and first session
NATIONAL THEATRE AND THE STATE:
Margarida Casacuberta Rocarols (Teatre Nacional de Catalunya from Barcelona, Spain),
Alexandre Caputo (Le Théâtre National de la Communaute Française from Brussels, Belgium)

12.30 AM–2.00 PM– lunch

2.30–5.00 PM – second session
NATIONAL THEATRE AND EUROCENTRISM:
Jin Chaek Sohn (The National Tehatre Company of Korea from Seul),
Aghan Odero Agan (Kenya Cultural Centre – Kenya National Theatre from Nairobi),

7 PM – Sławomir Mrożek, Love in Crimea, dir. Jerzy Jarocki (Bogusławski Hall)
7.30 PM – Anton Chekhov, The Seagul, dir. Agnieszka Glińska (Wierzbowa Stage)
15th October (Saturday)

10.00–12.30 AM – third session
NATIONAL THEATRE AND THE LANGUAGE:
Ilan Ronen (Habima from Tel-Aviv, Israel),
Effi Theodorou (The National Theatre of Greece from Athens)

1 AM–2.30 PM – lunch

4–5.30 PM – fourth session and closing words
NATIONAL THEATRE AND MOBILITY:
Magnus Florin (Kungliga Dramatiska Teatern from Stockholm, Sweden),
Mikołaj Grabowski (Narodowy Stary Teatr from Cracow, Poland)

7 PM – Sławomir Mrożek, Love in Crimea, dir. Jerzy Jarocki (Bogusławski Hall)
7.30 PM – Anton Chekhov, The Seagul, dir. Agnieszka Glińska (Wierzbowa Stage)